Disinfecting & Sanitizing Service
What Is Disinfectant Fogging?
Conventional disinfection services use cloths and wipes that can only cover up to 35% of all surfaces at home. Disinfectant fogging works differently. Our electrostatic technology introduces negatively charged electrodes into our disinfectant. When sprayed, the disinfectant is attracted to surfaces, effectively allowing every corner and surface to be well-covered.
Applications
Schools

Hospitals

Gyms

Homes

Offices

Government Buildings

Stores

Public Restrooms

Churches

Daycares

Medical Offices

Banks

Restaurants

Bars
Is It Safe?
Leslie's Cleaning Services uses an antimicrobial solution that is approved for use in hospitals and government agencies and institutions. Results have proven that this solution eliminates 99.99% of viruses, germs and bacteria. It is non-toxic; child and pet safe, too.
How Does It Work?
Chemical fogging produces a fine mist that remains suspended in the air long enough to kill airborne viruses and bacteria. It also eliminates pathogens on surfaces, including ceilings, walls, furniture and floors.
It can disinfectant nooks and crannies and areas that may be difficult to clean otherwise. In most cases it's not necessary to move furniture before or during the cleaning process.
Does It Take A Long Time?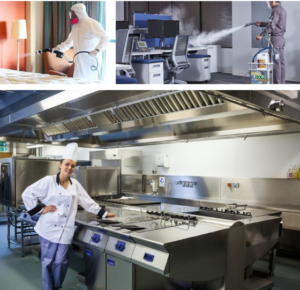 The Center for Disease Control recommends: "Cleaning visibly dirty surfaces followed by disinfection is a best practice measure for prevention of COVID-19 and other viral respiratory illnesses in households and community settings."
We recommend an Initial Top To Bottom clean first, but it is not absolutely necessary. All of this can usually be done in less than a day. The fogging takes 1-2 hours by itself.