Real Estate / Open House Cleaning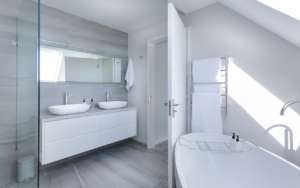 Few things can prevent or slow down the sale of your Auburn, CA home like dirty doors and light switches! Conversely, few things can speed up the sale of your house like a sparkling, shiny, clean home.
At Leslie's Cleaning Services we are very experienced in Real Estate cleaning services of all types. Whether you need your home cleaned for sale preparation, an open house, or after a move out, we've for you covered.
We work with many Auburn area realtors and property managers and have helped sell and rent hundreds of properties. One call or click by you and we will not only do the best job possible, but we will organize the jobs in the correct order, and send one invoice, easy peasy!
Top Ways We Prepare Your Home For Selling
Clean, clean, clean.

We got this!

Pay attention to smells.

We have specialty products to eliminate pet/smoke odors!

Clear out the clutter.

Our organizer will pack up and organize for you!

Keep the décor simple.

We will prepare for your yard sale!

Get rid of personal items.

Our organizer with get these ready to store!

Let there be light!

We will clean those windows!

Organize your closets.

Our organizer will check this off your list!

Close the lids to your toilets.

This makes the room look complete!

Nurture old dry wood (cabinets, doors, window sills).

We do specialized restorative cleaning! This can make a huge difference in the overall appearance of your home.

Clean the carpets.

We are Auburn's Best of the Best carpet cleaners!

Clean your tile and grout.

We have a professional floor care expert!

Get those dingy sinks and tubs looking new.

We offer restorative cleaning for for any porcelain surface!

Oil all your wood (including furniture).

We use pure organic lemon oil to give all your wood a warm glow and a nice scent to boot!
Our real estate cleaning services cover the needs of the seller, buyer and Realtors.